Review Blog
Mar 06 2020
Emergency Rescue Angel by Cate Whittle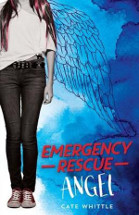 Omnibus Books, 2020. ISBN: 9781760669263.
(Age: 11-14) Highly recommended. Fans of books that feature angels will welcome this uplifting story about a Goth guardian angel, Max, who comes along to help Mitch handle his grief for his father who died saving a kid from drowning. Max is very depressed, unable to concentrate on his school work or on the art that he loves. He can't be bothered doing anything much until the new girl, Max, who has multiple ear piercings, red tints on the end of her hair and big boots, becomes friendly with him, encouraging him to do his homework and stand up to the school bullies.
This is a feel good story that will lift up the spirits of anyone who reads it. Max is a guardian angel who doesn't always go by the rules and her interaction with other more conservative guardian angels adds interest to the story. She gently guides Mitch to help him engage with every day activities and use his talent for art to express himself. School life with the tensions about relationships, the cliques of popular kids and the bullying that takes place is described well and Mitch manages to navigate the challenge by the bullies of putting some graffiti on the surf club wall with an innovative approach.
Whittle's writing is easy to read and her characters come alive on the page. It is easy to relate to Mitch and his grief and Max is a great character who has to acknowledge that Mitch does have free will and will do some things his own way. And there are a few twists in the ending that readers will appreciate.
Anything that I read in one sitting deserves five stars and
Emergency rescue angel
is an engrossing take on the Guardian Angel idea, with an appealing Goth angel in Max and an engaging hero in Mitch. Themes of surfing, art and bullying as well as grief over the death of a parent and a hopeful ending make it a great read.
Pat Pledger
BUY IT ON