Review Blog
Feb 26 2020
The salmon of knowledge by Celina Buckley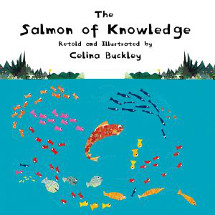 Starfish Bay Children's Books, 2019. ISBN: 9781760360702. 36pp., hbk.
(Age: 6-10)
The Salmon of Knowledge
is the retelling of a traditional Irish Legend and like all good legends is filled with much imagination. The Salmon is said to have all the knowledge and secrets of the world. Wise poet Finnegas yearns to catch the Salmon, as, according to the legend, the first person to taste the Salmon will acquire all that knowledge and those secrets. A young boy, Fionn, yearns to become a great warrior, but in order to do so must be taught by an elderly poet such as Finnegas. At last Finnegas is successful in catching the wonderful Salmon, but is then too exhausted to clean and cook it, instructing his pupil to do so, but not to taste the salmon until after he, Finnegas, has the first bite. Even in mythology honest mistakes can occur.
Read this wonderful book with its delightfully simple collage illustrations, to discover the truth!
This serious but charming book, with collage illustrations, should captivate 6-10 yr olds.
Joan Smith
BUY IT ON