Review Blog
Jan 08 2020
The book of stone by Mark Greenwood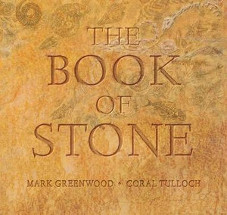 Illus. by Carol Tulloch. Walker Books, 2019. ISBN: 9781760650872. 40pp.
A wealth of wonder and imagination waits for readers opening this book. Each page offers a few short lines alerting them to an aspect of stone. Greenwood has collected stones most of his life and his fascination with their place in history shines through. Not only human history but geological history, a look at the evolution of the earth we live on, glimpses of volcanic activity, rocks hurtling through space and then fossils preserved in stone reflecting the world's immense age, stone tools used by early man, the way man used stone through stages of civilisation with buildings, tombstones, statues and end papers full of precious stones.
A panorama of the history of stones is presented, intriguing young readers to the possibilities around them, alerting them to the depth that stones hold, asking them to look more closely at the world in which they live, to look, wonder and question.
There are glimpse of astronomy and astrology, with detailed illustrations showing the signs of the zodiac and birthstones associated with each month. Readers will be entranced searching out the zodiac signs and the stone associated with the month they were born.
The nod to the stones' place in artistic history captivated me and I am sure many classes will search out the things carved from stone which are iconic in their place in the world's stage. Tulloch has included things like the Leaning Tower of Pisa, Stonehenge, Easter Island amongst a range of other things, making sure readers will have fun recognising them all. Informative, invigorating and exciting, this book will engage younger readers with the stones they see all around, encouraging them to go outside and have a look. Residing in Tasmnaia, Tulloch has used mixed media to create her startling illustrations, exposing many aspects of stone for readers to absorb and understand. The illustrator for award winners such as
Touch the moon
(Phil Cummings) and
One small island
(Alison Lester) Tulloch's work is individual and recognisable. Readers will enjoy working out what media was used in this book, creating such different looks on every page.
Classroom ideas
are available.
Fran Knight
BUY IT ON