Review Blog
Dec 02 2019
I'm ready for Christmas illus. by Jedda Robaard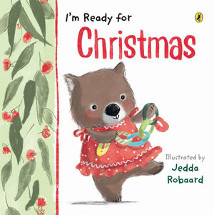 Puffin, 2019. ISBN: 9781760891619. board book, 14pp.
(Age: 0-4) Recommended. What a lovely Australian Christmas! Little Wombat is buzzing with excitement as the family gets ready for their favourite day of the year. Lights are shining on all the houses, street trees are decorated and families are taking their caravans off for a holiday. The Wombat family bakes a special pudding from the recipe handed down from great-great-great-grandma and clean the house ready for visitors. Presents are wrapped and finally the big day arrives and everyone sits down to a Christmas feast.
Young children will delight in this sturdy board book, seeing familiar and well-loved events depicted in the colours of Australia. They will have fun picking out the activities that their families might do around Christmas time - playing cricket in the park, taking the caravan away and the joy of giving by choosing and wrapping presents for all the family and visitors.
This is a book for the very young and one that could be brought out every December, in anticipation of the festivities surrounding an Australian Christmas.
Pat Pledger
BUY IT ON