Review Blog
Dec 11 2009
A year in girl hell: Trashed by Meredith Costain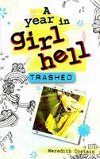 Hardie Grant Egmont,2009. ISBN 9781921502316
(Age 10-12) A year in girl hell: Trashed follows the life of Alysha as she makes the transition to high school. In the process of fitting in she leaves her primary school friends to join the 'shiny' group of popular girls. Alysha sees herself as 'a big fat lump. But I'm going to do something about it. Just like Paige and Jayde.' Her new friends are nicknamed the 'Chuck twins' and Alysha even goes as far as forcing herself to throw up her meals too in order to get thinner. Alysha's beautiful older sister Bec and her busy parents, who seemingly have little time for her, make her teenage transition even harder.
Alysha finds herself doing all the dirty work for the 'shiny' group as she strives to avoid being a 'loser.' When they ask her to send incriminating photos about another student all around the school Alysha finally realises the controlling influence they have over her. Admitting to herself that she 'had been an absolute cow all year' Alysha tries to rejoin her former friends Lexi, Mia and Michi.

Trashed is the fourth and final book in the A girl in hell series about growing up and fitting in. Each book stands alone as they follow different girls through their transition to high school. Melbourne based author Meredith Costain is a prolific writer with her own website .This book will be popular with 10-14 year girls.
Kay Haarsma