Review Blog
Mar 26 2008
Seams of gold by Christopher Cheng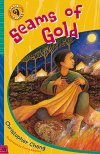 National Museum of Australia Press, 2007 (Making Tracks) ISBN 978 1876944520
(Age 8+) Danny is staying with his uncle while his parents visit relatives in China. Since the mining accident, uncle has sewn for a living, doing all sorts of repairs for the miners, as they slave over their diggings looking for gold. Grudgingly Danny accompanies his uncle, aghast when he tells him that he should sew too. Sewing is women's work, but things turn out that sewing is Danny's work as well, as he realises that sewing has an important place in the community.

A delightful story full of the sight and sounds of the goldfields in the middle of the nineteenth century in New South Wales, when many Chinese people came to work the mines, Cheng recreates the feelings of being a Chinese person at the diggings, where their skills were sought after. He based his story around a small sewing basket at the National Museum, part of a collection of objects gathered from the NSW goldfields.
Fran Knight

Note: Discussion questions and other activities can be found at Making tracks.