Review:

Gang-o-kids by Hazel Edwards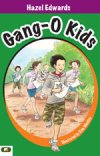 Omotivo, Victoria, 2008. ISBN 978064648847 9
Ages: 7-10 A new book published by Omotivo, the Orienteering Services of Australia, this contains stories by Hazel Edwards published two decades ago, about kids in an orienteering club.
The Bunyip Orienteering Club meets most weekends going on bush walks, bush runs and mystery hikes to practice and refine their skills. The group consists of Jamie, Tina, Emma, Mario and Kate and each story favours one or other of the group.
Hazel Edward's polished writing brings out the differences in these disparate kids in a few sentences and their personalities are further developed through the stories. This book contains four stories telling of their adventures while orienteering. The first story,
Cunning Running
has Mario having to solve a mystery to join the group. As Tina and Emma are twins, the group devises a mystery where the girls trade places to put off Mario. As with the other three stories, this one promotes good skills when orienteering, and displays the sorts of skills used in this sport.
Aimed at middle primary kids, the book is a good introduction to the sport, and with four short stories will find a place in classrooms.
Fran Knight
Home
© Pledger Consulting, 2007