Review:

The spell of undoing by Paul Collins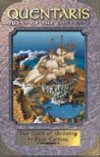 Ford St
, 2008. ISBN 9781876462536
(Age 10+) The first book in a new series of Quentaris – Quest of the lost city – sees Quentaris uprooted by a wicked spell and sent flying through the rift-maze. Tab Vidler, a young orphan member of the Dung Brigade, unknowingly witnesses the magic spell of the icefire gem and finds herself a key person in the fight to save Quentaris from the rival city of Tolrush, which has also been hurled into the universe. With her friends, Amelia and Philmon, she sets on a quest to grow as a magician who can speak to animals, while facing great danger, a fiercesome dragon and exciting battles.
The spell of undoing is an enticing start to the series. The characters are very likeable, the illustrations add to the charm of the story, the cover art is attractive and the reader is sure to want to read further adventures of Tab as her powers grows and Quentaris faces many perils in its search for its home.
This can be read as a stand-alone, although the reader can gain further information from the
Quentaris
website. Fans of the original series will welcome this new addition, and new readers will be tempted to go back to the original series.
Teacher's notes
are available.
Pat Pledger
Home
© Pledger Consulting, 2007