Code name bananas by David Walliams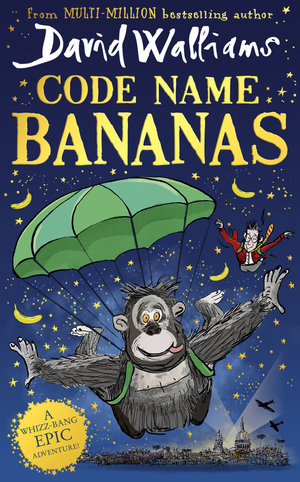 Code name Bananas is another epic tale by the much loved children's author David Walliams.
The story follows Eric, who is 11 years old and loves the London Zoo. His favourite things there are Gertrude the Gorilla and his Zoo Keeper Uncle Sid.
The background to this story is that it is set in 1940 and Nazi Germany is all around them, bombs fly and family members perish. In all the craziness the zoo is targeted and hit, Gertrude is out and Eric, Uncle Sid and their gorilla friend are on the run. This World War II setting also allows Walliams to sprinkle through so historical facts-the reader wouldn't even realise! History and literacy matched together so well!
My son and I read this one together and we both enjoyed it. I liked how Walliams created the characters. They are interesting, funny, in-depth and charismatic; You want to know more about them and he delivers that through the book.
My 10 year old son just loved Gertrude. He thought that Walliams created her to be such a funny character and he was laughing out loud throughout the whole book. We both loved the usual over-the-top style of David Walliams, the way he really brings the text to life, engaging us at every paragraph and surprising us with every plot twist.
We cannot finish this review without mentioning the illustrator Tony Ross. He brings this book to life and every picture adds such dimension to the text. I am of the opinion that the story would not be as good without the pictures!
This book is perfect for readers 8-12 years old, and would also be a great book for children who struggle with engagement during reading - the humour in this book is hard to resist.
Lauren Fountain