News
Mar 06 2020
2020 Quick Picks for Reluctant Young Adult Readers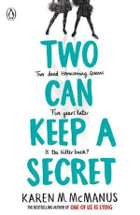 The 2020 Quick Picks for Reluctant Young Adult Readers have been announced. The Top Ten are:

10 Blind Dates by Ashley Elston. Disney: Hyperion. 2019.
Belly Up by Eva Darrows. HarperCollins Inkyard Press. 2019.
The Haunted by Danielle Vega. Razorbill. 2019.
Heroine by Mindy McGinnis. Katherine Tegen Books. 2019.
Kiss Number 8 by Colleen AF Venable. Macmillan Roaring Brook Press/First Second. 2019.
Pumpkinheads by Rainbow Rowell. Art by Faith Erin Hicks. First Second. 2019.
Two Can Keep a Secret by Karen McManus. Delacorte Press. 2019.
The Unfortunates by Kim Liggett. Tor Teen. 2018.
UNpregnant by Jenni Hendriks and Ted Caplan. Harper Collins. 2019.
We Are Displaced: My Journey and Stories From Refugee Girls Around the World by Malala Yousafzai. Hachette Book Group. 2018.