News
Jan 06 2020
Children's Peace Literature Award 2019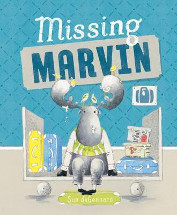 The Children's Peace Literature Award is a biennial award.
The 2019 winner is Missing Marvin by Sue deGennaro.
Shortlisted for 2019:
Winston and the Wondrous Wooba Gymnastics Club by Tamsin Janu
Dream Riders Frankie by Laura Bloom and Jesse Blackadder
The Adventures of Catvinkle by Elliot Perlman
War and Resistance by Sophie Masson

For further information about the award and of past winners go here.