News
Apr 26 2019
Blue Peter Book Awards 2019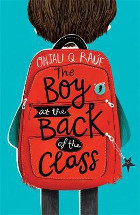 The Blue Peter Book Awards 2019 celebrates children's books published in the last year in two categories: the Best Story and the Best Book with Facts.
Best story: The boy at the back of the class by Onjali Q. Rauf
Shortlisted: The house with chicken legs by Sophie Anderson, The clockwork crow by Catherine Fisher.

Best book with facts: The colours of history by Clive Gifford
Shortlisted: Professor Astro cat's human body odyssey by Dominic Walliman, Element in the room investigating the atomic ingredients that make up your home by Mike Barfield.