News
Aug 20 2018
2018 Children's Illustration and Writing Challenge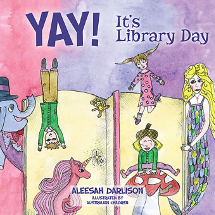 Wombat Books is running the Children's Illustration Challenge again. This is an opportunity for Aussie kids to be published illustrators in a picture book.
Last year there were over 600 entries to the Challenge and published the highly-visual and entertaining book, Yay! It's Library Day. This year Wombat Books are seeking illustrations from Australian school-aged students (aged 5 - 18) to publish in a unique picture book by the team at Wombat Books.
"Around Australia in 30 Places" starts in Brisbane and travels arounds Australia with our resident wombat character, visiting locations special to our country. More information HERE.

There's also an opportunity for young budding writers in the Australian Girl Kids Competition. More information HERE.