News
Jan 03 2018
Australian Family Therapists' Award for Children's Literature 2017 winners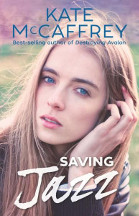 'The winners of the 2017 Australian Family Therapists' Awards for Children's Literature have been announced.
Saving Jazz by Kate McCaffrey (Fremantle Press) has won the $1500 Older Readers Award, and Out (Angela May George, illus by Owen Swan, Scholastic) has won the $1500 Young Readers/Picture Book Award.

The judges also recommended One Step (Andrew Daddo, Penguin), The Pain, My Mother, Sir Tiffy, Cyber Boy & Me (Michael Gerard Bauer, Omnibus), When Michael Met Mina (Randa Abdel-Fattah, Pan), Agatha and the Dark (Anna Pignataro, Five Mile), My Brother (Dee Huxley, Oliver Huxley and Tiffany Huxley, Working Title Press), Space Alien at Planet Dad (Lucinda Gifford, Scholastic), The Stupendously Spectacular Spelling Bee (Deborah Abela, Random House) and Welcome to Country (Aunty Joy Murphy, illus by Lisa Kennedy, Black Dog) as books that may 'enhance therapists' insights into specific problem areas'.' Books and Publishing.