Review:

The Black Dog Gang by Robert Newton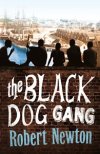 The Black Dog Gang by Robert Newton, Penguin 2007
(Age 11-14) When Maggie is taken to the Quarantine Station with plague, Frankie and his gang come to regret their money making scheme, catching and selling rats to the health inspector. The time is early twentieth century and the setting is the Rocks in Sydney, a haven for poverty and rats, culminating in the outbreak of the plague in those early years.
Frankie and his friends attend the Ragged School, set up for the children of the poor workers who live there. Some are well off with loving families, but others suffer brutal treatment at the hand of alcoholic fathers and cruel men. It is a time of death and cruelty, dealt out not only by fathers, but also the principal of the school.
A terrific and at times, harrowing, read about a time hardly heard about,
The Black Dog Gang
realistically captures the times and the fear with which some children lived. I found it hard to read (tears) and I am sure middle school readers will lap it up.
Fran Knight
Home
© Pledger Consulting, 2007