Review:

Pirates drive buses by Christopher Morgan and Neil Curtis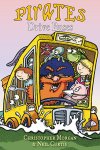 Allen and Unwin
, 2007
Age (6-10) A sequel to Pirates eat Porridge, Pirates drives Buses has the same kids in another strangely funny situation, that of being picked up by a pirate who takes them on a bus ride. The other passengers are an assortment of fishy animals and together the occupants of the bus get up to an array of strange and wonderful things. Searching for his ship, the SS You Beauty, the pirate, who is never named, drives the bus straight into the sea.
Full of life and humour, this book, so beautifully illustrated by Neil Curtis, will have kids laughing out loud. Aimed at the newly arrived chapter book reader, kids will revel in the word concoctions and play on words that litter every page.
Fran Knight
Home
© Pledger Consulting, 2007