Review:

Murderer's thumb by Beth Montgomery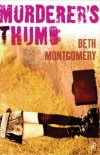 Text Publishing, 2008.
(Age 13+) How would you feel if you uncovered the body of a girl in a silage pit? Adam Statkus is a newcomer to the small dairy community of Falcon Ridge. Fleeing from his abusive father, Adam and his mother settle into a house on a dairy farm and it is while he is helping out with farm chores that he makes the gruesome discovery. He is intrigued by the mystery and decides to uncover the identity of the murdered girl. Is she one of the teenage girls who went missing six years in the past? The discovery of a cryptic clue to a lost diary sets him a quest to find the diary, which he hopes will reveal the identity of the murderer.
This is a perfect murder mystery to introduce the genre to teenagers. Montgomery has created a story that has all the elements of a compelling who-dunnit. There is an interesting young detective who is tenacious and loves to decipher puzzles, a couple of villainous older footballers, a strong young girl who won't let anyone put her down, and a fascinating trail of clues and red herrings.
The rural setting where everyone knows everyone else and where outsiders are viewed with suspicion gives an added dimension to the story. Adam gets accepted into the local footy club, but wonders whether he can trust the other players. He is afraid to give out his telephone number because his father might trace him, and worries about the safety of going shooting with two of the older players. He is also perplexed by the behaviour of the Thackeray family, and their attitude to the missing girl Emma.
The tension mounts as Adam cleverly works out a succession of clues leading to the diary, and the reader is forced to continue with the story to find out whether he will be safe and to discover who committed such a dire murder.
I thoroughly enjoyed this mystery, loved its pace and allusions to cryptic crosswords and was kept guessing the murderer's identity to the end.
Pat Pledger
Home
© Pledger Consulting, 2007