Review:

Dragonhaven by Robin McKinley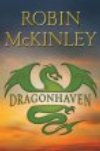 Putnam 2007. ISBN9780399246753. Hbk.
(Age 14+) As an avid reader and admirer of Robin McKinley's work, in particular
The blue sword
, which was a Newbery Honor book, I grabbed this book and I wasn't disappointed. Jacob has lived his whole life in Smokehill National Park with his scientist father, who studies Draco australiensis, an endangered dragon. His mother has died in mysterious circumstances and his father, overly protective, finally allows him to go deep into the park on his first solo trip. On a hike, miles away from the nearest Ranger, he stumbles across a horrendous scene – the dying thralls of a mother dragon, with all but one of her babies dead and a mutilated poacher nearby. Jake rescues the baby dragon and begins a torturous relationship with a creature who has bonded to him, won't let him out of his sight and singes his skin when he comes near.
This story is not one of McKinley's sweeping magical fantasies with vivid descriptions and interesting dialogue. Instead McKinley sets herself the task of taking on the voice of Jake, now in his 20s, who is the narrator, writing down his recollections of all that has happened since he became the baby dragon's surrogate mother at the age of 15. This is not an easy read, and I found myself reading a few pages and putting it down, but always returning to the story of an isolated young man determined to save a dying species against calls for its extermination and threats to have funding withdrawn.
This story should appeal to intelligent readers of fantasy as once they get used to the narrative voice, will be seduced by the idea of intelligent dragons and the need to have a haven for them. They will also learn about the hard work involved in being a mother, albeit a surrogate.
Pat Pledger
Home
© Pledger Consulting, 2007