Review:

Tamburlaine's elephants by Geraldine McCaughrean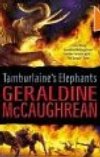 Usborne, 2008.
(Age: 10+) Highly recommended. This reissue of the wonderful
Tamburlaine's elephants
in a paperback edition will encourage many more students to read this highly accessible historical story about two boys meeting in the heightened tension of Tamburlain's sweep across Asia. The warrior, Rusti, is determined to be the best warrior in the army, facing the enemy with determination and grit, until he meets an elephant, and the elephant's keeper, Kavi. Both boys learn new things about themselves as their lives intertwine, and their need for survival is paramount.
An incredibly exciting story, based on impeccable historic research,
Tamburlaine's elephants
will give the reader an insight into the armies of the Mongol invaders, and the use of elephants, and their training. And in the background; Kavi's marriage to his sister in law, the way armies moving across the landscape, the unbelievable organisation of these armies, the descriptions of the cities of the past, contrive to make the story seem absolutely real.
Fran Knight
Home
© Pledger Consulting, 2007