Review:

Somebody's crying by Maureen McCarthy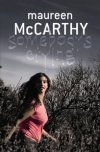 Allen and Unwin, 2008. ISBN 978174175519 0
(Ages: 14+) When Alice returns to her grandmother's house in Warrnambool and takes a job in Mullaney's law office during her break from university, she finds that her cousin, Jonty, the one originally charged with her mother's murder, is also back in town, working at the local restaurant, Thistles. She is keen to avoid him and the memories his presence evokes, but one Saturday night while returning from a concert, Jonty and Tom Mullaney are both at her grandmother's house, asking for help.
Without realising it, the reader is drawn into the cosseted world of this small rural city in Victoria, relishing the coming clash between the three protagonists. Each has kept back information from the police during the murder investigation, each is suspicious of the other, and cousins, Jonty and Alice, are resentful and wary because of their grandmother's will which leaves the insecure and lonely girl, the whole estate.
Stringently, details about the relationship between the murdered woman, and the two boys, school mates from a long way back are revealed. Jonty and Tom were in year 12 with Lillian, a mature aged student, when their paths crossed and the older woman invited the two boys back to her home. Her murder created a great deal of gossip and innuendo about the relationship between the three, and Jonty's arrest came as no surprise to the town. His time spent in remand for the crime, curtailed his friendship with Tom, and now, Tom's guilt at not supporting his friend has resurfaced.
Because the protagonists are much younger than those usually found in a crime story, the whole feel of this novel is very different from those thick tomes encountered in Dymocks, and middle secondary students will be enthralled with the story and its characters as it moves towards the conclusion. Family life is revealed in its many guises, and as a class set, this book will engender much discussion.
Fran Knight
Home
© Pledger Consulting, 2007