Review:

The Iron Throne by Ben Julien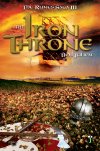 The Runes Saga III John Wiley & Sons, 2007. 215p.
(Ages13-16) The third and final in the Runes Saga,
The Iron Throne
deals with the final battle at Harlheim against the forces of chaos, led by Ymir, their giant ice controller. Set in the Northern Lands the plot draws on Nordic mythology and is set at a time when Christianity is starting to replace the old gods. However the ancient runes still have power for those who can use it, and Calum is almost the last who can. Lena is a Vala, a woman who also can use the runes, and with Calum and her protectors including the Bear-coats and Wolf-Skins, oppose the army of goblins, cave men, trolls and other creatures of chaos. The forces of good fall back to the ancient heart of the Northlands, Harlheim, and in a final battle find unusual solutions to the attack. The many divisions of Calum's life are finally resolved. The background stories are richly described and the many battle scenes are dramatic. The book has a glossary and a character list, both of which are very useful. This is an intriguing story for lovers of fantasy and Nordic mythology in particular.
Jennifer Hamilton
Home
© Pledger Consulting, 2007