Review:

Georgiana by Libby Hathorn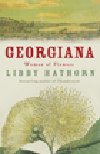 Hachette Livre, 2008.
Set in the early years of the Western Australian colony, this is the most amazing story of one woman and her attempts to make herself a home. She not only helped her husband, Captain Molloy, set up a house near Augusta on Western Australia's southern coast, but she planted a garden using the seeds brought out from England, as well as those sent to her by friends, but also saw the beauty in the flowers around her, planting them in her garden, mixing the native flowers with those she planted, and so developing a world wide interest in the flowers of this new land.
Georgiana Molloy was no ordinary woman, following her husband to a new country, she was curious, inquisitive, welcoming. She not only developed an interest in the plants, but accepted the indigenous people, asking them questions, meeting them, unafraid. Religious to the point of fervour, she set up a prayer meeting on her front verandah, ensuring all those who worked for her husband and neighbours, attended. She made plans to build a church. Always dismayed at the lack of servants, many of whom took up land grants of their own, she accepted what she could around her.
Libby Hathorn's extensive research and refinement of this incredible story has produced a book that is accessible to all. Telling of the hardships and privations of the early settlers, their fears and restrictions, it also tells of a young woman, determined to make the best of the situation, marveling at the freedom the country offered her, and incredulous at the array of flowering plants. For students of Australian history, this book will fill in the background of the academic history books, for students looking at indigenous issues, or those applying to women in the early years of Australia, or those who just want a good read, then this will fit the bill.
Fran Knight
Home
© Pledger Consulting, 2007