Review:

Swordbird by Nancy Yi Fan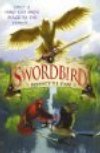 HarperCollins, 2007
(Age 9+) The author was only 13 when she wrote this book and it will be an inspiration to all young writers. She has created a believable world populated by extraordinary birds. Turnatt, a red-brown hawk, has kidnapped countless birds to build Fortress Glooming. Tricking the cardinals and blue jays into believing that the other group was responsible for the disappearance of their friends, he has destabilised the bird groups and made them easy prey for his evil deeds. Only Swordbird, a mythical creature, can save the forest.
Nancy Yi Fan vividly describes the slavery suffered at the hands of the tyrant Turnatt and sends a powerful message of peace and the power of an insignificant individual to bring about change. Her prose is compelling and the action moves along at a smart pace. Each new chapter has a thought provoking saying from the Book of Heresy or Old Scripture which gives an added dimension to the story. Illustrations by Mark Zug give intensity to the characters.
The book should appeal to readers who enjoy animal tales like
Redwall
, and they could move from here to Clem Martini's
Crow Chronicles
or Kenneth Oppel's bat series. The book could be a useful tool for teachers when providing role models of young authors and their ability to write.
Pat Pledger
Home
© Pledger Consulting, 2007