Review:

The London Eye Mystery by Siobhan Dowd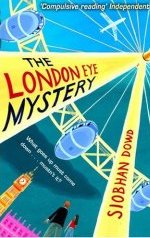 David Fickling Books, 2007.
(Age 9+) Strongly recommended. This has all the ingredients of a thumping good read; believable characters that you really care about, a mystery that seems impossible but true, a fast moving plot and a satisfying ending. The London Eye Mystery has been short-listed for the Stockport Book Award and has already earned a devoted following among nine to eleven year olds at my school.
It's one of those books that appeals on many levels. The storyline, a boy who goes missing from a pod on the London Eye, is all the more exciting because it seems so impossible. The two main characters, feisty Kat and her brother Ted, are two of the most believable, strong and likeable characters I've had the pleasure to meet.
The adults in this story are less important and it is the children that ultimately solve the mystery and save the day. It is all so believable that as the plot rattles along we are immersed in a race against time to find and rescue Kat and Ted's missing cousin, Salim.
It is the characterisation of Ted and Kat that really lifts this book away from more mundane adventure mysteries. Ted is autistic which, as he explains, means the wiring in his brain works differently. As a result expressions such as 'you could cut the atmosphere with a knife' are particularly challenging. Body language is something else he struggles to interpret, and we are given an insight into a world where the intricacies of relationships that most people take for granted have to be learned and practised. However, it is the wonders of Ted's logical brain and superior reasoning that enable him and Kat to solve the mystery of Salim's disappearance.
This is a marvellous story that lends itself to being read aloud. With such strong male and female characters it should prove a big hit for both boys and girls.
Claire Larson
Home
© Pledger Consulting, 2007