Review:

Wombat and fox: summer in the city by Terry Denton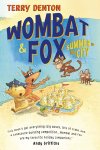 Allen and Unwin
, 2007
(Age 6-9) With Fox's fur falling out in clumps, and Wombat so hot he feels he is melting, the friends decide that something must be done. Wombat takes the bull by the horns and books them a seaside holiday. They must catch the bus, and being novices, let many busses go by before they realise that any one of them would take them to the beach. But when they get on the bus they find that another of their friends, Crocodile is headed in the same direction. Trusting Wombat's stomach solves many of their problems, but they find that one thing is there to ruin their holiday, the Five Monkeys.
The running battle between the friends and the monkeys ends harmoniously when all at sea, the penguins come to their aid. This amusing and well illustrated little tale will please the newly reading kids of lower primary age.
Fran Knight
Home
© Pledger Consulting, 2007