Review:
Naomi and Ely's no kiss list by Rachel Cohn and David Levithan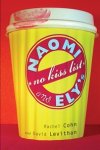 Allen and Unwin, 2008
(Age 15+) Ely and Naomi are soul mates. They both live in the same apartment block in Manhattan and have been best friends forever, sharing their clothes and music and living through Naomi's father having a brief affair with Ely's lesbian mother. They have even compiled a no kiss list of boys that neither will kiss, to ensure that their friendship lasts. But what happens when Ely, gorgeous and gay, kisses Bruce the Second, Naomi's boyfriend?
Although this book is written from several viewpoints, both Naomi and Ely as well as several friends, Cohn and Levithan juggle the different voices adroitly, compelling the reader on to see if Naomi and Ely's friendship will survive. Naomi is devastated when Ely kisses Bruce the Second and she has to come to grips with the fact that Ely is gay and that their friendship will never develop into anything more. She needs to decide what is really important to her. At the same time promiscuous Ely takes a look at his lifestyle and also asks himself what he really wants.
Teens will love this witty story, with its sophisticated but vulnerable characters and will identify with the search for love and exploration of their sexuality. The New York setting, music and pop icons will attract and the writing style is fun to read.
Strong language and sexual themes make this a book for older teens.
Pat Pledger
Home
© Pledger Consulting, 2007