Review:

Nighttrap by Tom Becker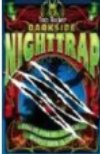 Scholastic 2008
Jonathan's friend Mrs Ellwood has been kidnapped by Vendetta the vampire. As ransom Vendetta demands the Crimson Stone, a priceless gem which is in the possession of Xavier, an elderly and fanatical antique collector. Jonathan must secure the help of a crack team of thieves to break into Xavier's impenetrable fortress, but once inside Jonathan's worst nightmares are realised as the true, horrible identity of Xavier is revealed and the Crimson Stone remains just out of reach.
The third in the Darkside series this is a gothic thriller on speed with plenty of whirlwind action that you can almost visualise jumping off the page. Peopled with vampires, a werewolf, magicians, a fire eater and two argumentative trapeze artists there is sufficient drama and humour to appeal to every discerning young reader. The superb cover deserves a special mention and should certainly encourage children to pick up the book.
Darkside is another world that exists parallel to the city of London and in this Becker must surely be borrowing from Neil Gaimon's hugely successful
Neverwhere
, but that doesn't really matter as Tom Becker has created a well written, cinematic novel that should have boys champing at the bit for more.
One word of warning; the stories build on each other, so it's better to read them in the right order.
Claire Larson
Home
© Pledger Consulting, 2007