Review:

Mac Slater, Cool Hunter by Tristan Bancks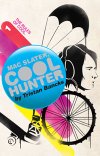 Random House Australia, 2008.
(Age range: 10-14) Mac Slater and his mate Paul are inventors. The story begins with Mac and Paul trying out their latest invention, a flying bike in front of an assembled crowd of fifty people on Kings Cliff. As is often the case things don't go quite according to plan and Mac ends up battered and bruised. Dejected from another failed attempt they head to find Mac's mum who has a stall in the local market. Whilst there they are approached by two business men with a proposition - to become Coolhunters! Mac and Paul are amazed that these men would consider them innovative enough to be part of an online vlog which reports on the coolest things around. Their quest is to report for a week on the 'cool' goings on of Kings Bay with the prize being a trip to New York. The only problem is that Cat DeVees, the hottest girl in school, is reporting too and at the end of the week's trial only one of them will be chosen. Cat appears to have the upper hand as the week begins and Mac is struggling for newsworthy items. Mac however has underestimated the strength of family and friends and the power of self belief.
A sequel to this novel is due out in February 2009.
Tracy Glover
Comment
I found this to be a rivetting read, with plenty of action and two engaging, nerdy heroes who are prepared to try astoundingly dangerous things in their quest to trial their inventions.
Pat Pledger
Home
© Pledger Consulting, 2007