Review:

Ironbark by Barry Jonsberg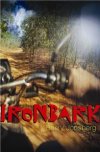 Allen and Unwin, 2008. ISBN 9781741149555
(Age 14+) Imagine what would happen when a 16 year old boy, suffering from a major problem, Intermittent Explosive Disorder, goes to live with his grandfather in remote Tasmania? After he has been taken to court for violence in a shopping centre the unnamed protagonist is sent away by his wealthy father, who has paid extravagantly to have his son's violence judged as an illness and not hooliganism. He records how he feels and what happens in his journal.
Jonsberg brings alive the character of the boy, with his foul language, his bouts of dangerous anger, and his extreme views of his grandfather's shack and its lack of modern amenities. His relationship with his girlfriend, his ability to cook and his growing self-awareness are revealed through his writing. The reader also gains a thought provoking glimpse of the grandfather, who gradually reveals a sense of humour and understanding of his grandson's extreme anger. The local policeman, Richie, is loved by the locals for his wood chopping prowess, but he threatens and bullies the boy who has to report to him. An explosion is just waiting to happen!
The author uses humour to effectively depict the generation gap and there is plenty of action, especially the motorbike riding and illicit car driving that the boy indulges in. There are some puzzling touches of what may be the supernatural with a strange text message telling the boy how to find his way home from the mountain when he is lost and unexplained incidents at the end of the novel, which left me puzzled. However the ending is positive and boys will love the action and humour.
Pat Pledger
Home
© Pledger Consulting, 2007